Colorado's real estate market has been red-hot for the past year, but it's begun to cool down over the past quarter as we head into Winter. There are still plenty of interested buyers looking for homes for sale, but sellers should put extra effort into their pre-listing preparations to ensure their property stands out amongst the competition. The best way for sellers to show off their homes online is to partner with The Meridian Group. With complimentary staging appointments, design intel, and in-house staging, here are a few ways that The Meridian Group can help your property shine.

1. High-quality equipment
While any agent or homeowner can use their smartphone to take listing photos, these images simply don't compare to those taken by a professional. As in any technology-driven industry, top-of-the-line equipment makes a difference. Not only will a photographer have the best type of camera for photographing your home, but they will also have accessories like a light meter, tripod, wide-angle lens, and external flash unit that will take their images to the next level. If you compare a picture taken by a professional real estate photographer with one taken by an amateur, you'll immediately see what a difference high-quality equipment makes.
2. Professional images attract buyers

Listings with professional photographs sell approximately 50 times faster than those with amateur images. This is because professional imagery is simply more appealing to buyers, especially online. Almost 98% of buyers are shopping online, gone are the days a potential buyer would drive by your home. We have THREE seconds to capture a buyer's attention online, and we do that through awarding-winning photos.

Thus, if your listing includes low-quality, amateur photography, potential buyers are more likely to move on to a listing that captures their attention and clearly shows the details of a home. It won't matter if your home is more appealing in person if buyers never get past the online listing.
3. Photography is the focal point of your listing's digital marketing
Most real estate agents will create strategic online marketing campaigns complete with landing pages, social media, Google Ads, and retargeting to drive traffic to your listing. The success of all these strategies depends on the clear images of your home. Without high-quality images, potential buyers won't click links or make any effort to click on the listing—no matter how good the descriptions contained within the ad campaign may be.
4. Professional real estate photographers know how to emphasize the selling points of your home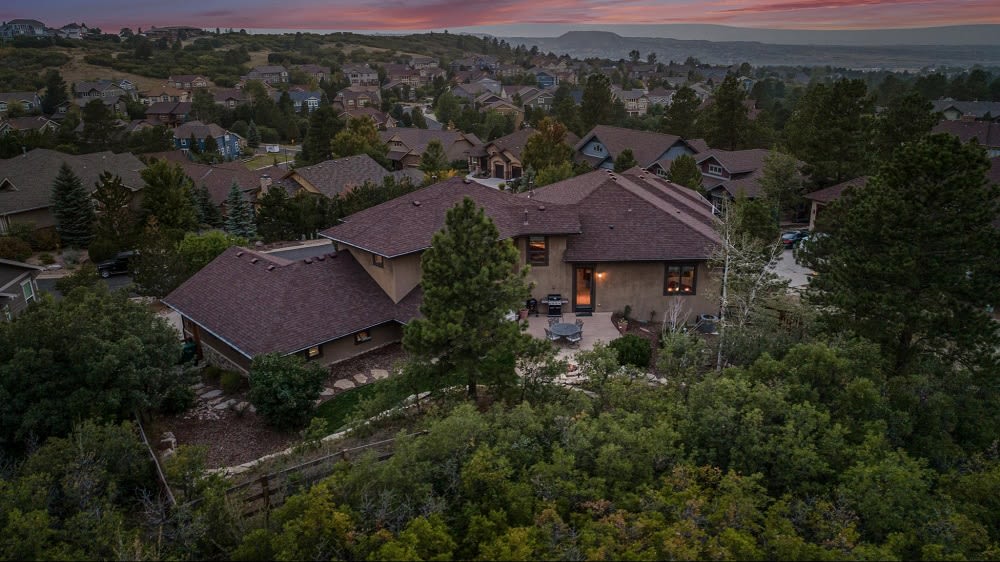 A professional real estate photographer will have a trained eye. They'll be able to walk into your home and quickly identify the most photogenic features of each room. For example, if one of the selling points of your home is a large, bright, remodeled kitchen, the photographer will ensure they get daytime photos and come back at sunset for a "Twilight Photoshoot" to highlight the many other selling features of a home. We offer both daytime and twilight packages with all of our listings.
Other tips on selling Castle Rock homes
Hiring The Meridian Group to represent you during the selling process gives you a competitive edge. With over twenty combined years of experience coupled with our home staging and photography packages, we will get your home sold for the highest dollar in the neighborhood and in the shortest amount of time. We have the recommendations to back it up. Below are some more tips to consider when preparing to sell your home.
Write a detailed description
◾ While professional images speak for themselves, we still make sure to describe your home thoroughly in the listing description. This is yet another way for potential buyers to validate your listing. There are some details that won't come through in images alone, so we make sure to highlight them.


Declutter and remove personal decor/photos
◾ When buyers tour your home, it is best to have all personal decor and photos removed so that the buyer can easily visualize their own personal touches. The less clutter in a home the more freedom the buyer has to visualize a room with their personal touches.


Remove signs of pets
◾ To ensure your home appears clean and well maintained, temporarily relocate your pets and remove all accessories such as beds, toys, dishes, and food. You may also need to mitigate pet odors by painting or having carpets or furniture professionally cleaned.


Boost curb appeal
◾ Regardless of whether a potential buyer views your digital listing and photography, their true first impression will be made in person, and the exterior of your home is a deciding factor. To boost curb appeal, make sure your lawn is tidy, shrubberies are trimmed, and there are no obvious signs of damage. You can also increase curb appeal by painting or replacing your front door, adding some high-quality porch furniture, and placing a welcome mat by the entrance.

It's still a great time to sell Colorado real estate—especially before the temperatures dip and the interest rates start to rise. To ensure you get the most out of your home, work with a trusted local agent, like the ladies at The Meridian Group.